ALL Customers Gave Five Star-Rating In ALL Categories
"Carey's personality immediately told me she was the right Realtor to sell my home. She genuinely cared about me and worked like a dog to get multiple offers and a much higher price than I expected. I would recommend her without question to anyone looking for a class act.
Plus, her signs were a huge hit!!"
-- Bill Hammer, Seller, 820 18th Ave, Menlo Park



"We called Carey to sell my father's home after he passed away this past Christmas. We were so relieved to find a Realtor who was so professional and kept us informed of all detials, even though we lived far away. We were shocked at how high of a price she got for the home, and feel Carey's negotiating skills had alot to do with that.
-- Linda and Paul Kurokowa, Seller, 804 Seventeenth, Menlo Park

I called Carey to sell my mothers house after she passed away. I could not have picked a better Realtor. Carey was professional, compassionate, helped us pay attention to details, and most of all, I am convinced, got us the highest possible price for our home. I would recommend her to anyone looking for a Realtor.
-- Patty Hora, 217 Marmona, Menlo Park


Carey is a great agent! She is very fast and responsive, which is important in this market. She got to know us and cared about getting us into the right home. Carey is a genuine and thoughtful person and ultimately that is what got us the house. Thanks Carey!!!
Jen and Everett, Buyers, Belmont
We are writing to express our complete satisfaction with our agent Carey Mitchell. We found her to be completely professional, honest and trustworthy in addition to being very patient and responsive to our never-ending lists of questions and requests. We would not hesitate to recommend her to our friends and co-workers, and we will approach her first for any of our real estate needs."
Jim and Jacqueline Philips, 6 Yarnall Place, Redwood City, CA
"You totally pulled it off for me Carey. I have no question in my mind that you made it happen. I think about it everyday and I am thankful"
-- Susan, Buyer 763 San Benito, Menlo Park


"My home was about to be auctioned off and I would get no money. Carey stopped the auction, got an all cash buyer and I walked away with a significant profit. I can't thank her enough. Now I have money to live on and am so relieved. I can't believe how hard she worked to help me."

​
-- Lola, 968 Tenth Street, Redwood City, CA


" We got the house on the first try, all because of Carey. She is an awesome Realtor and we are telling everyone about her. She did so much work, her strategy worked and she knows her stuff!
--Michele & Geoff , Buyers , Menlo Park
Carey is an amazing broker. When my wife and I were buying our first home in Menlo Park, she made the process as stress-free as possible. Carey is always available, a real go-getter, and knows the area like the back of her hand. We appreciated her patience with our endless questions and concerns. She has a great sense of humor and a down-to-earth, positive attitude which made us look forward to touring homes with her. When it came time to negotiate, she impressed us with her expertise -
We got the house at the price we wanted.
Looking for our second home, we of course called Carey again. She continues to impress with her initiative and dedication. Give Carey a call, she is terrific.
Peter and Marie, Buyers and Sellers, Menlo Park
Carey provided great service during our search and subsequent purchase of a fourplex in Redwood City. She was available for all our calls, didn't hesitate to show us places that she knew we were just touring for "market education" and helped us pounce when we found the right property. She was helpful in providing several bids from local tradespeople so we could accurately assess the costs of repairs and improvements that were needed so there were no surprises! I wouldn't hesitate to call on her again for real estate needs.
And! She really does have a yellow dog!
Liza and Frank, Buyers, Redwood City
Additional References who has chosen Carey Mitchell for probates:
Janina Hopkins, Court Appointed Trustee for San Mateo County
Larry Langdon, Senior Partner, Mayer Brown law firm, Palo Alto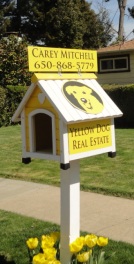 YELLOW DOG REAL ESTATE
Serving Menlo Park, Woodside, Redwood City, Los Altos, Atherton, Palo Alto, Mountain View, Sunnyvale , Santa Clara, CA